Join our Aerial Yoga community
Once you've completed a course with us either in person or online, we'll invite you to join our facebook community group. This is a space for open discussion about all things aerial yoga and a chance to share and swap ideas from our community's collective body of wisdom.
We are here to guide and support you along your teaching journey. We can all learn from each other, so we encourage you to stay in touch and take advantage of the ongoing CPD that we offer such as dynamic aerial yoga, sequencing, restorative and sling dance! The aerial yoga sling opens the way to a world of aerial adventure, with some yoga thrown it!
MEET OUR STUDENTS
We have Aerialyoga360 graduates teaching Aerial Yoga across the UK and beyond. Each came to Aerial Yoga from a different background and has left us, armed with the tools to teach in their own style. We'd like to introduce you to a few.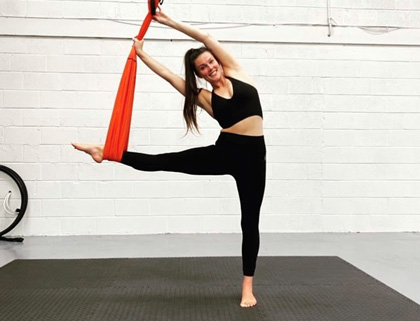 Meet Jess
Jess came to aerial yoga as both a yogi and an aerialist, so it was obviously a match made in heaven. She is keen to introduce more people to her upside down happy place! She loves the support that the aerial yoga sling gives and the confidence that it enables, to get your feet off the floor!
Leeds Aerial Arts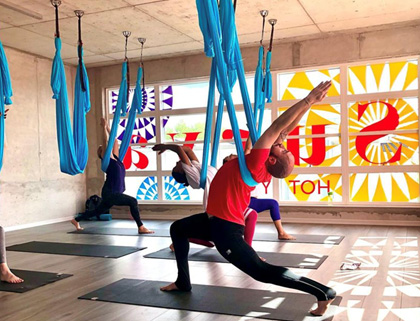 Meet Alex
As a long term yoga teacher, Alex is enjoying the endless options the yoga hammock gives you to support and expand your practice. You can try familiar postures from a new perspective, getting into areas of the body that can be hard to reach otherwise. The support from the yoga sling makes difficult postures like headstands and handstands accessible much earlier in your practice!
Suraya Hot Yoga, Wimbledon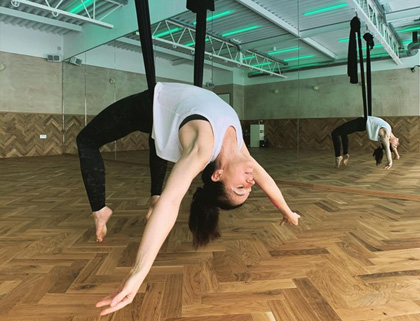 Meet Charlotte
Charlotte is enjoying having added Aerial Yoga to her wide range of yoga practices including Vinayasa, Yin and TRX yoga. She sees Aerial Yoga as a way to turn your world upside down, build strength, work on your flexibility and awaken your inner child playfulness. We couldn't agree more.
SPN Lifestyle, Tunbridge Wells & Sevenoaks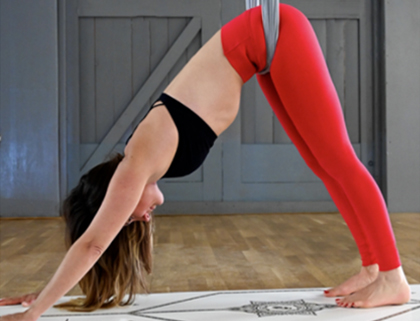 Meet Laura
I can't thank Edel and Yasmin enough for the confidence and strong foundations they gave me to begin my career teaching aerial yoga. The course covers all aspects of aerial yoga; not only how to teach a wide and varied number of postures safely, but also how to make classes adaptable and accessible for all. Safety is paramount and they cover everything from the rigging to your safety in the sling. Aerialyoga360 also give great advice on the business elements of working as a teacher, including your studio set up and equipment, and even your insurance and First Aid requirements.
Flight and Flow Aerial Yoga, Brighton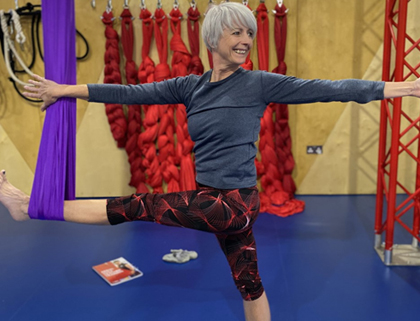 Meet Wendy
I embarked on the aerial teaching training programme at Flying Fantastic in 2020. I originally signed up as I thought it would be a fun thing to do but after completing the course, I definitely felt the bug to get out there and teach too. The course was well structured, packed with everything you needed to know and the materials provided an essential reference tool that I have used as a bible since.
I am now teaching at two studios and it is thanks to the training at Aerial Yoga360.
Deep Yoga, Nottingham
At AY360 our aim is to make aerial yoga accessible to as many people as possible! Meet Edel and Yasmin the founders of Aerialyoga360.
To stay informed on our latest posts and all things Aerial Yoga sign up to our newsletter.