We believe in the power of Aerial Yoga as a fun way to get fit and strengthen the entire body. Aerial Yoga also offers a chance to slow down and turn your world on its head – literally!
Aerial Yoga sessions can be adapted so that it is an incredibly powerful supplement for aerial training, and at the opposite end of the spectrum, Aerial Yoga can be soft, restorative and help with mobility issues. This is one of the wonderful things about aerial yoga – it's truly inclusive.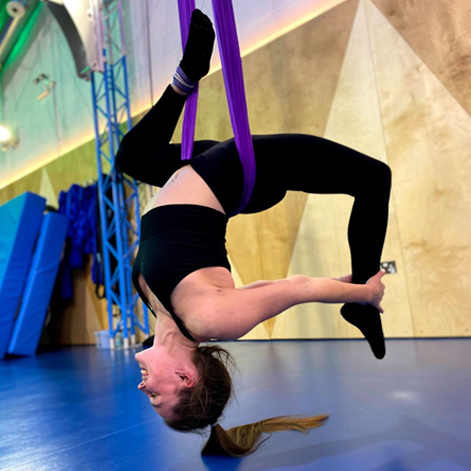 MIND & BODY
Aerial Yoga incorporates some of the best bits of traditional yoga. Think calming breathwork, relaxation, whole body stretching and effortless inversions.
The hammock can offer additional support when needed, allowing for 3 dimensional movement. The fabric can also be used to assist a deeper stretch in poses you're more comfortable with.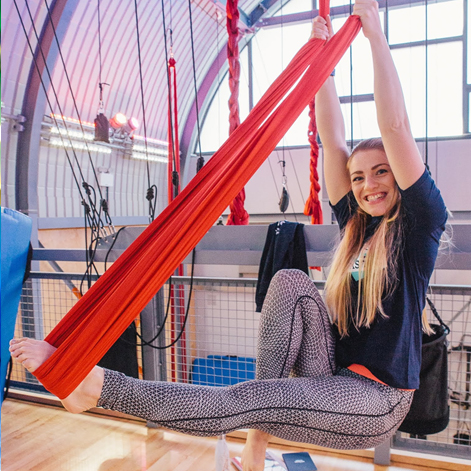 FUN & FITNESS
The Aerial Yoga sling acts as the wings you need for some circus-based flips and tricks. It's such a great feeling when you're flying, your feet above your head in a pose you never imagined possible.
It's strength building, empowering and incredibly fun. Whether you want to sweat, stretch, relax or fly, there's something for everyone. Too often as adults we seem to lose the opportunity to play, but aerial yoga gives you the option to turn your studio into a giant playground. Hungry hippos in the sling anyone?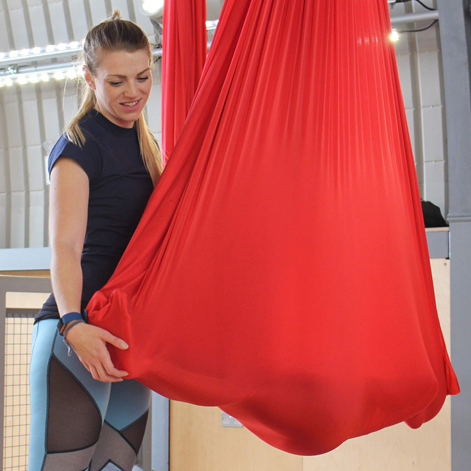 RELAX & RESTORE
A typical Aerial Yoga class would usually start and end with relaxation inside the hammock. This is your time to chill out and check in. What's amazing about this relaxation, is that you are essentially floating inside a hammock where you feel cocooned, safe and weightless.
Aerial Yoga relieves stress whilst calming the nervous system. We do this through breathwork, mindfulness and restful postures. It's the perfect place to let your tensions melt away.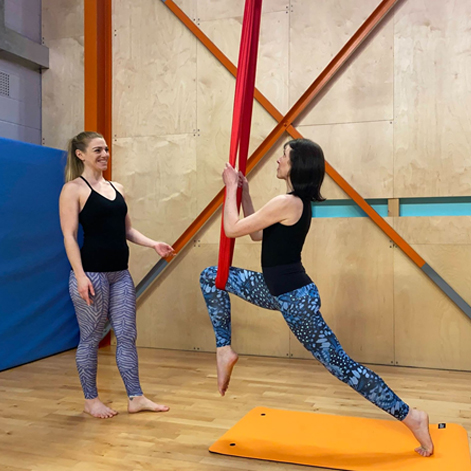 BALANCE & BREATH
Balance can be a tricky issue for everyone from elderly to athletes. During balance postures we use the fabric to create structure to help stabilize the body and build strength at the same time.
Aerial Yoga also helps us find balance, both physically and mentally. We use mindfulness and breathwork to keep us in the present moment. The more present we are, the better we feel (this is known as mindfulness). During Aerial, our minds and bodies are so busy working out how best to tackle the class challenges, that we can't help but be mindful!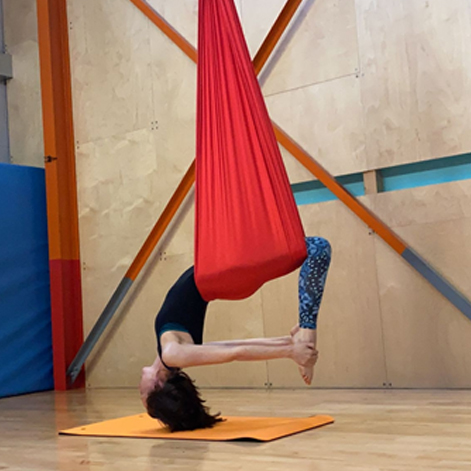 SPINE & BRAIN
When was the last time you hung out, upside down? We're talking fully supported and suspended in the air upside down, with a new found sense of freedom.
With the weight of the body supported, you can explore and create more space in your body. Turn your world on its head and let gravity work its magic with some spinal decompression!
When you hang out upside down, you improve your circulation. You increase the blood flow to the brain, giving it more oxygen helping to boost brain function for better concentration. Inversions also promote more rapid circulation of the lymph through the nodes, increasing the rate of blood purification and detoxification.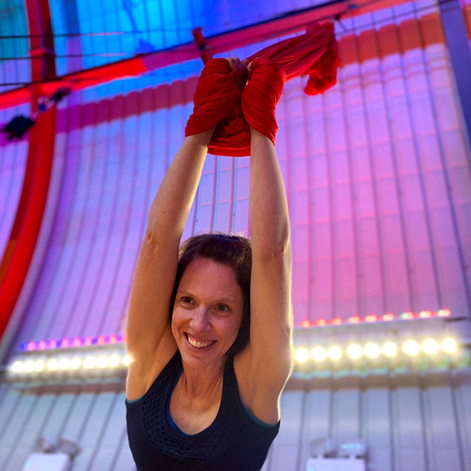 HEART & HAPPINESS
Generally Aerial Yoga making you happy because it is a well known fact that when you hang upside down, all the sadness falls out!
In all seriousness, aerial yoga really does make you feel great. It can helps to lower blood pressure and slow the heart rate. It also improves cardiovascular health which lowers the risk of heart disease, strokes and heart attacks.
Aerial Yoga increases production of feel good chemicals like endorphins, oxytocin, serotonin and dopamine – happy hormones here we come!
Weightlessness is a wonderful thing, we challenge you not to turn that frown upside down when you're relaxing in an aerial yoga sling.
SHARE THE AERIAL YOGA LOVE
The amazing benefits of aerial yoga need to be shared far and wide to allow others the opportunity to hang upside down, elongate the spine and release those happy endorphins.
HAPPY CUSTOMERS
"Thank you so much for such a detailed, informative course! I have really enjoyed myself and learnt so much and I am now very much looking forward to getting my Aerial Yoga classes up and running!"
Jaydene Paddock – Jaydene Lee Arts