What you can expect from an Aerialyoga360 course
With every course from Aerialyoga360 you can expect professional and thorough guidance through the fundamentals of aerial yoga so that you can develop your own style. Whether online or in person, we offer a series of practical demonstrations, with written guidance, tips for spotting as well as help with lesson planning, rigging and class management.
Whether you're new to aerial yoga from a yoga, fitness or circus background, or just want to deepen your knowledge of aerial yoga, or even try aerial yoga for the first time, we have you covered. There are obvious advantages to each option depending on your situation, but we aim to have something for everyone.
We have a variety of options to suit different styles of learning and circumstances. Please get in touch in you need help deciding which would be best for you!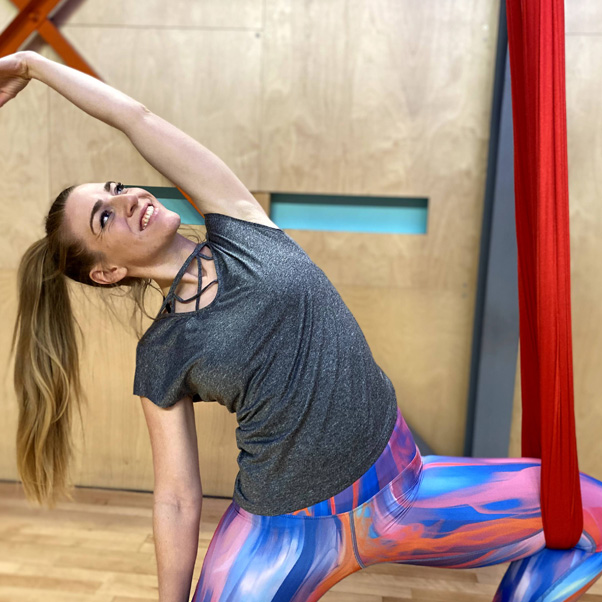 Accessible at any time and indefinitely, online courses are a great option for any one who can't come to us – we can come direct to you! All the course material you receive at an in person training is available online.
The practical element of the courses have been recorded with detailed voice overs so that you can watch it over and over again and learn at your own pace. There are quizzes throughout to check your understanding and assessments will be carried out via video recordings. You also have access to the training team throughout if you have questions or queries that you want to discuss.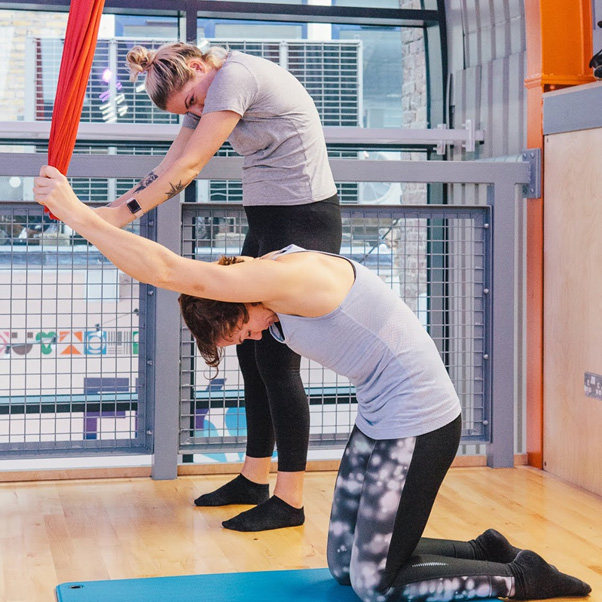 In person, you get to practice aerial yoga in a beautifully rigged studio, with immediate access to your tutors and a chance to practice teaching on your peers from day 1.
The course starts with you as a student in an aerial yoga class, takes you through each move at the pace of the group, and builds you up from teaching one person, to teaching a full group by the end, culminating in an assessment with immediate feedback from your tutors and peers. There is also the advantage of making friends with fellow Aerial Yoga teachers who become your instant network for support as you start teaching!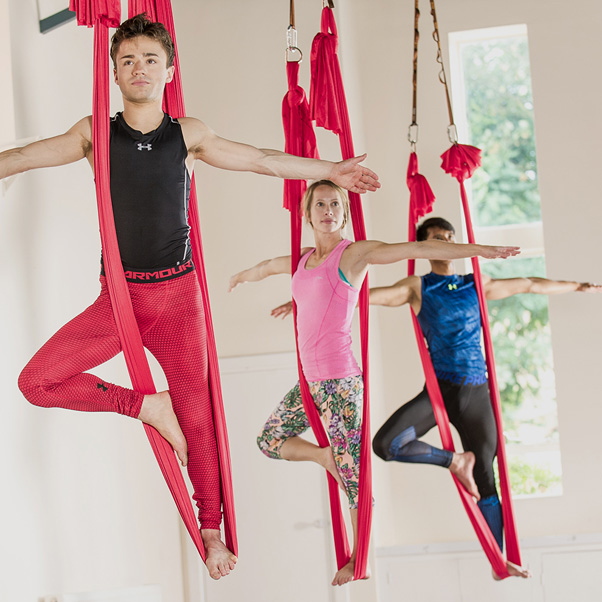 If you have a professionally rigged studio and a few instructors that you would like to train up, it might make more sense for us to come to you! This obviously saves on travel and possibly accommodation for your team, and we get to help you become familiar with teaching in your own space.
If you think this might be a good option for your studio, please drop us a line below giving as much detail as you can about numbers, dates and times and we will see what we can do!
We are committed to high standards in the aerial yoga world, and in return, we ask all our graduates to commit to the guidelines below:
Always use safe rigging practices as outlined in the Foundation Level Teacher Training course and reinforced on the rigging section of our website. In every case, we would like you to seek the advice of a professional rigger, structural engineer or other professional who can advise on forces and dynamic loads. Safety first at all times.
Whether the equipment is yours or belongs to a studio, it is important to regularly inspect and repair equipment. Rigging points should be inspected regularly according to industry standards.
Keep aerial yoga slings clean and smelling fresh!
Develop your own style, but stay true to the Aerialyoga360 teaching methods and safety tips.
Always continue learning, from others, from new courses, new developments in the industry, new courses in the Aerialyoga360 range!
Always be honest about your level of experience. No one can know everything so never stretch the truth on your education, experience and skills.