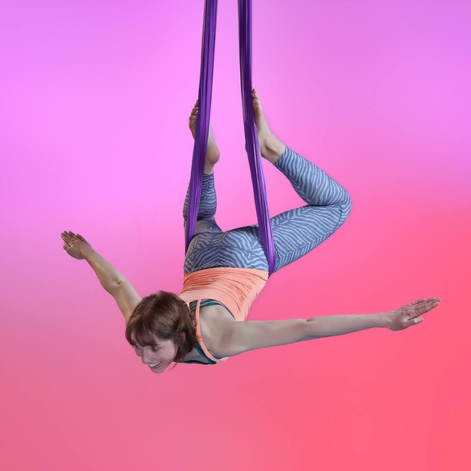 AERIAL YOGA sequencing
£
Find your flow
Master the Art of Creating Balanced Aerial Yoga Sequences
Aerial yoga is not just about individual poses; it's about bringing them together in a way that flows. Our Aerial Yoga Sequencing Course teaches you how to design captivating and effective sequences. Whether you're an instructor looking to create engaging classes or a practitioner aiming to enhance your personal practice, this course will empower you to craft well balanced, whole body sequences.
What you'll gain:
Access to the Find Your Flow Planning Method: We've come up with a structure to help you think about what you want to focus on, and then how to make it flow!
6 weeks of aerial yoga inspiration: Each week has a different theme:
Week 1: FYF sequences based on a peak move.
Week 2: FYF sequences based on a particular target area of the body.
Week 3: FYF by spicing up your sequences
Week 4: FYF sequences from a low hammock.
Week 5: FYF flashcard sequencing.
Week 6: FYF aerial yoga workouts.
Creative Inspiration: Unlock your creativity and design sequences that flow seamlessly.
Hands-On Learning: Apply what you learn by using the templates to create your own sequences.
Community Support: Connect with fellow aerial yoga enthusiasts to share ideas and inspiration. There is a community section on the app where you can ask questions and share ideas. The International Aerial Yoga Sequencing Squad is already a group of committed, keen and inspirational aerial yogis – come join us!
For more information, please email [email protected]
Enroll In A Course Today
If you're not sure which course is right for you, please get in touch and we'll be happy to discuss it with you.