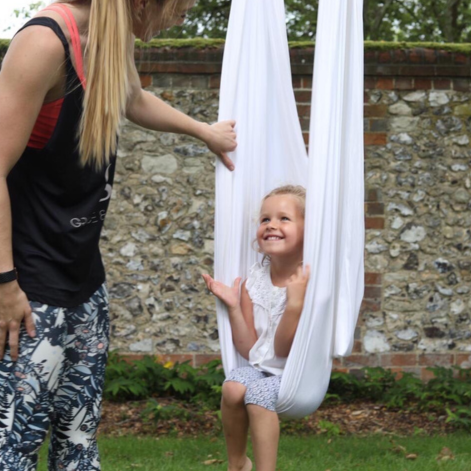 KIDS AERIAL CPD
£130 – SPECIAL PRICE FOR THIS DATE ONLY
In person
Dates: 28th November 2023
09:30 to 16:30
Venue: Flying Fantastic Peckham, London, SE15 5BA
This Kids aerial yoga/sling training program is designed to equip you with the knowledge and skills to offer fun, safe, and supportive aerial classes to children in various settings. As aerial instructors, we understand the unique joy and challenges of teaching young minds the art of aerial skills. With this comprehensive Continuing Professional Development (CPD) program, we aim to empower you to create a positive and enjoyable learning environment for children in the aerial community.
Throughout this training, we will explore essential topics, including child safety considerations, age-appropriate teaching methods, lesson planning frameworks, engaging games, and much more. You will gain valuable insights into child development and learning, enabling you to tailor your teaching to meet the diverse needs of young participants.
Our program emphasises safety as a top priority, providing you with best practices for equipment, spotting techniques, and injury prevention. We'll also delve into effective communication strategies and nurturing techniques that encourage children to explore their potential and build self-confidence.
The Kids Aerial Training is suitable for all aerial teachers, whether you have experience working with children or are eager to expand your skills into this rewarding area. This course is specific to aerial sling, with optional additional training to make it adaptable to various aerial apparatus, enabling you to provide a well-rounded experience for young students in different settings.
Upon completion of this CPD, you will be equipped to design dynamic and engaging lesson plans that foster creativity, teamwork, and joy in aerial classes. Whether you teach in a dedicated studio, school, community centre, or outdoor venue, this training will prepare you to deliver exceptional classes that leave a lasting positive impact on children's lives.
Enroll In A Course Today
If you're not sure which course is right for you, please get in touch and we'll be happy to discuss it with you.